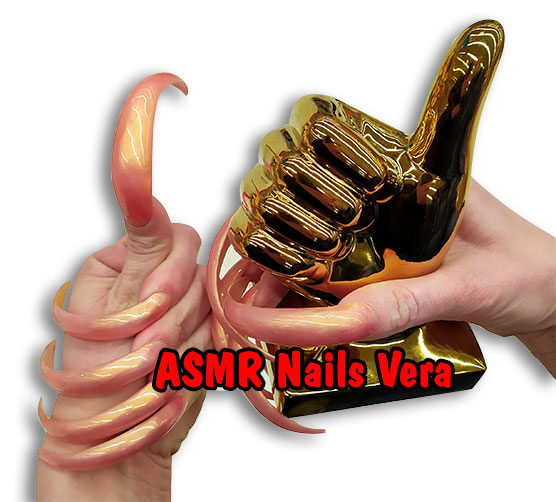 About ASMR Vera Nails & long nails
My name is Vera Nails
I have long nails since 2000 year.
Curved sharp long nails, aka claws, is the natural shape of my nails.
The shape of the nails was different before but now the claws shape nails is the most comfortable for me.
The record of the length of my long nails is 12 cm (4,72 inches) from the cuticle to the nail tip (in the thumb nail).
The nails may grow even longer but I have to do house job and have no maid.
I never cut the nails until the base, I trim them to a comfortable length.
I like to have different colours on the nail and in the underside. As my nails are very long they coated with acrylic in both sides. This is an advanced technology and 6 hours, at least, are needed to have my nails ready.
Once a week I have to go to the nail salon for strengthening and coating with acrylic (because the growing of the nails).
I don't scratch people, I'm not bloodthirsty.
Height 173 cm, Weight 56 kg, Shoe size US: 8 (Europe: 39), long hair: 110 cm, the hair color is natural: blonde.